MyWay by Metro on-demand service eclipses traditional public transport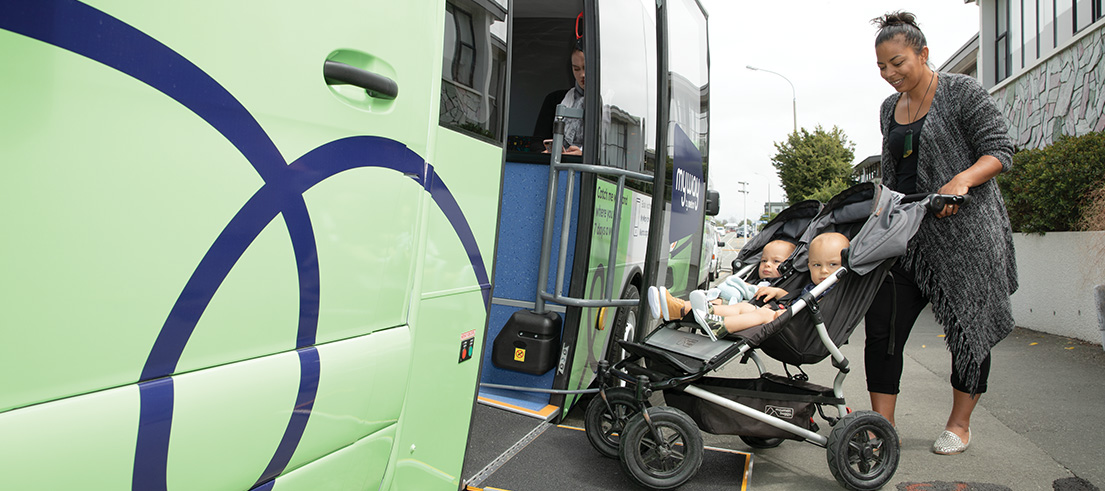 Since the beginning of June, Timaru's trial of on-demand public transport has seen patronage surpass the services it replaces by nearly 40%.
MyWay by Metro's 12-month trial will be officially launched by Mayor Nigel Bowen, Timaru District Councillor Sally Parker and our Councillor Peter Scott in Timaru on Monday 22 June.
From pilot to providing essential travel during lockdown
The service was quickly brought out of its pilot and into use to aid those needing public transport for essential travel when the COVID-19 lockdown began.
With nearly 1000 people having taken rides, Councillor Scott says that it is clear the public are interested to see how MyWay will work for them.
"That's exactly what it's been designed to do – work around the user. Unlike traditional public transport which has set routes and timetables that people must fit in around, users can book MyWay by Metro to pick them up and drop them off at convenient locations across Timaru," he says.
The Timaru Link and scheduled school service continue to operate as normal, while on-demand transport has replaced the Grantlea, Watlington and Gleniti services.
Positive patronage trends so far
MyWay patronage has risen from an average of 262 trips a day on these services at the same time last year, to a weekday average of 365 this June.
Patronage dipped to 244 on Monday and 263 on Tuesday when fares were introduced this week, and has since climbed back to 325 yesterday.
*This chart excludes weekend boardings because the Gleniti, Grantlea and Watlington buses didn't run on weekends. Weekend patronage: 13 -14 June averaged 200 passengers per day.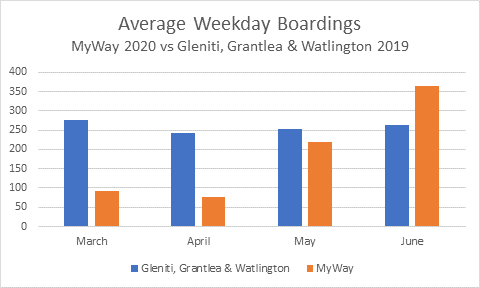 Graph showing daily use of MyWay in 2020, compared with 2019 use of the Gleniti, Grantlea and Watlington bus routes it has replaced.*
A necessary change for Timaru public transport
With wide acceptance amongst the community that Timaru's public transport usage was in decline, we embarked on a research project with Waka Kotahi NZ Transport Agency and Timaru District Council to find a sustainable solution.
"The reality was that things needed to change, because ratepayers and taxpayers cannot keep subsidising a public transport system that is poorly utilised," says Councillor Scott.
In 2019, the Transport Agency confirmed its support for a Timaru on-demand public transport trial and is funding 51% of the project trial.
Our subsequent competitive bidding process resulted in the appointment of global mobility and technology expert Via, and local operators Ritchies.
Creating a community-focused service
We have visited community, senior citizen and disability advocacy groups, and run focus groups, pop up consultation booths, an online survey and conducted a pilot with over 150 users to ensure the service meets the diverse needs of the community.
More than half of those surveyed said they would like to be able to use public transport during the day in the weekends, and around a quarter would use the service in the evenings, enabling easier access to work or social activities.
"MyWay meets these needs – we run longer hours and now have a weekend service carrying nearly 200 passengers a day, accessibility features have been included, such as ramps and space for wheelchairs and strollers, and there's also bike racks," says Councillor Scott.
Mercedes Sprinter and LDV vans are used on the service with the number of vehicles increasing based on growing patronage.
Over 70% of bookings are made through the app, which has a user rating of 4.9 out of 5. The remaining bookings are made through the local call centre.
If successful, the Transport Agency is interested in the potential to replicate Timaru's on-demand model for public transport in many other small to medium towns and cities around New Zealand.