It's our way of saying 'thank you' to our seniors and veterans.
Off-peak travel is between 9am and 3pm and public holidays. When boarding, simply present your SuperGold card to the driver.
If you're unsure about whether a particular service applies, give us a call on 03 688 55 44.
About SuperGold card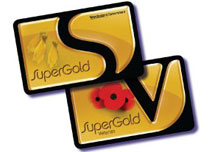 The SuperGold card is free for all eligible New Zealand residents aged 65 years or over and those under 65 who receive the New Zealand Superannuation or the Veteran's Pension. It allows holders to travel free on off-peak public transport services across New Zealand.
How do I apply for a SuperGold card?
To apply for a card, or for further information on eligibility and discounts, visit supergold.govt.nz, email information@supergold.govt.nz or call 0800 25 45 65.
Regular bus user? Find out about Metrocard.
During peak times you can use a Metrocard to travel cheaper.